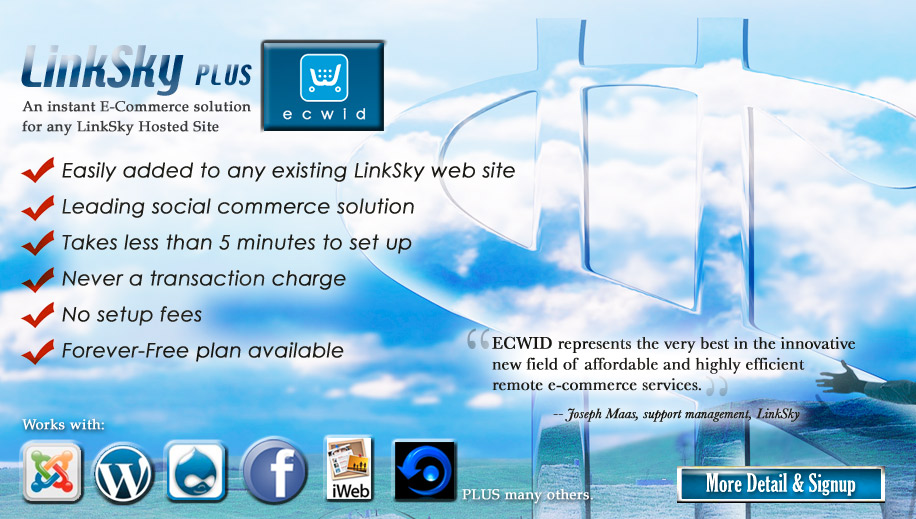 Add Ecwid to your site and start selling today!

Check the Ecwid site for all the features and benefits.
There are plenty of services you can use to establish e-commerce on your LinkSky hosted web site, but Ecwid is probably the easiest and one of the most cost-efficient. Below is a list of the features we like the most about this system:


YES! You can add the Ecwid e-commerce widgets to any existing web site.

YES! Ecwid offers methods you can use to sell on Facebook and other social media.

YES!

Ecwid offers

a perpetual free account for up to 10 products, with zero transaction fees. This is a full-featured account, not a trial offer. Also, none of their accounts have transaction fees or any hidden costs.

YES! Ecwid's e-commerce widgets are easy to integrate into your current site and design style, or we can refer you to LinkSky hosted webmasters who can assist for a nominal fee.

YES! You can dissplay your store on your LinkSky hosted site, Facebook, Blogger... ANYWHERE, then sell simultaneously from all locations! Changes made to your Ecwid account/products are instantly updated everywhere you use the

Ecwid

widgets.

YES! Absolutely no need to install SSL certificates, nor any of the usual additional fees associated with online e-commerce. All transactions are handled securely through your account on the Ecwid system.

YES! E-commerce system upgrades are effortless and seamless! You don't have to watch for or install upgrades, security patches, etc.



Informative Ecwid videos:

Getting Started Using ECWID:
Ecwid. Getting Started. from Ecwid Team on Vimeo.
Adding Product Options:
How to add product options in Ecwid from Ecwid Team on Vimeo.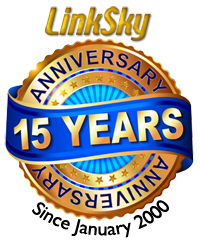 We have one of the highest satisfaction rates in the industry with extremely low levels of churn. Over 90% of LinkSky membership comes to us by word-of-mouth. In addition, LinkSky has purchased very little advertising over the years, enabling us to keep our fees quite low and services feature rich. We have never raised any fees during our entire history as a web hosting company.


We absolutely love helping our members to be successful in ways some never thought possible!