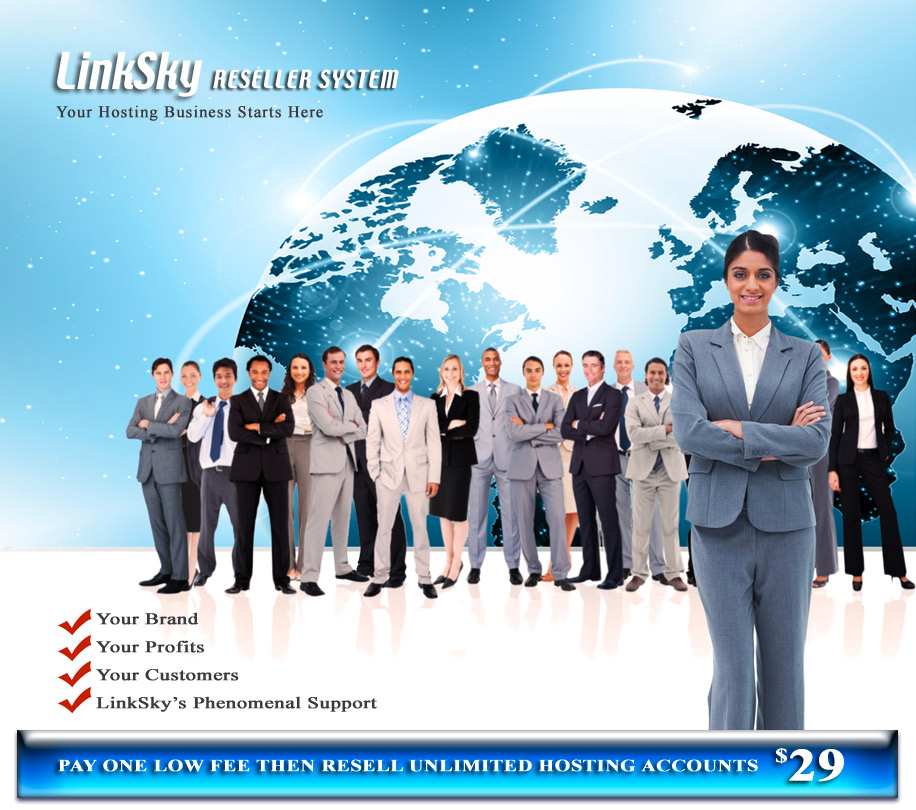 Launch your hosting business today!
The most unique, business user friendly reseller hosting in the world!
Get started today with your LinkSky Hosting Account Reseller Certificate which can be purchased for a low $29 one-time fee. Then simply order new hosting accounts to resell, using your deep reseller discount. Your Resold accounts are preconfigured, branded with your business identity, and connected to your web hosting management system, making set up and management a breeze.

YES! We do the complex account configurations for you.

YES! We perform server software security monitoring and updates for you.

YES! Your Resold accounts remain 100% search engine friendly.

YES! The cPanels for your resold accounts feature YOUR BANNER, your brand and your contact information.
YES! Use our Reseller system to purchase unlimited additional accounts for yourself or to resell; it's up to you.

YES! Don't cram all of your Resold accounts into one small but expensive Reseller space. Every Linksky Resold account is an independent, top-level account.

YES! LinkSky makes being a hosting account Reseller EASY, QUICK, EFFICIENT and PROFITIABLE!

Also perfect for webmasters:
Or anyone who would like to add email and web hosting services to their list of value added options.


MORE DETAIL

The process is simple:
Order Resold accounts as you need them and we'll connect them to your Reseller account through your WHM (web hosting management) control panel.

Sell an unlimited number of hosting accounts:
Unlike many other reseller systems, you're not forced to cram all of your customers' accounts into a small (but expensive) reseller web space. Every Resold account is full-featured
 just like your own, but fully branded with your business identity.

Always search engine friendly. NOT sub-hosted:
LinkSky Resold accounts are hosted in the primary location within their own independent account space, thus they remain search engine friendly just like all other top-level web sites.

Branded for YOUR hosting business:
Resold account control panels (cPanels) display your business identity.

No need to re-create (and often inferior) hosting plans:
Simple and easy. LinkSky Resold accounts have the same top-quality features as non-resold accounts. It's YOUR hosting business so everything is completely under your own business identity and you can resell at any price point you choose.

No need to hire technical staff to keep a server (virtual/VPS or otherwise) secure, exploit free and up to date:
The LinkSky technical team will work as your silent partner to keep everything secure and flowing smoothly.

You support your customers, and we support you (as always):
LinkSky has no direct contact with your customers. Your Resold accounts are owned by you. When any of your hosted customers need support, they come to you. If you need us, we're here for quick, responsive support. LinkSky Resellers always receive TOP PRIORITY support.

Set up shop quickly:
Easily design and install your hosting business web site using your free LinkSky RVSiteBuilder or any number of free web hosting business templates, or CMS web builder systems provided through your in hosting account cPanel without additional charge. In addition, web host billing management script packages are available from the Fantastico and Softaculous libraries ready for instant point-n-click installation.

Easily generate on-going profits:
Take advantage of your Reseller deep discount. As your business grows, purchase additional hosting accounts to resell. You set the price for your customers. Many of our hosting account resellers are making 300% profit month after month, others as much as 600% or more.

Scenario:
Sell 3 Standard Feature accounts per day at $10 per account.
-- After one year, you could earn more than $600 per month profit.

Host your customers on state-of-the-art LinkSky systems!

Realize a profit from your very first sale!
Receive reliable, fast, friendly and knowledgable support!

Sign up and get started today!



LinkSky account reseller membership notes:

Hosting account Reseller membership requires a one-time license fee of $29. This fee is refundable for 30 days from the date of invoice.

All LinkSky hosting account Resellers are granted Reseller license status and cPanel branding options. Our Resellers receive a 20% off Reseller discount code which can be applied toward the purchase of any Standard, Extended or Ultra account package for any billing term, and is in effect for the lifetime of the Resold hosting account. The Reseller is required to maintain their Reseller hosting account in good standing in order to continue to receive the discount.

The LinkSky hosting account Reseller system can not be combined with other discounts or offers, e.g. a Resold account can not be enrolled as a affiliate. Resold accounts will not receive free months for referral credit through the LinkSky referral system. Please see the

LinkSky TOS

for other limits and restrictions.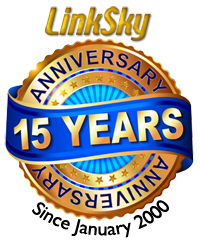 We have one of the highest satisfaction rates in the industry with extremely low levels of churn. Over 90% of LinkSky membership comes to us by word-of-mouth. In addition, LinkSky has purchased very little advertising over the years, enabling us to keep our fees quite low and services feature rich. We have never raised our fees during our entire history as a web hosting company.


We absolutely love helping our members to be successful in ways some never thought possible!